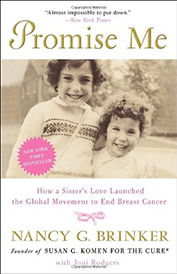 PROMISE ME: HOW A SISTER'S LOVE LAUNCHED THE GLOBAL MOVEMENT TO END BREAST CANCER
BY NANCY G. BRINKER
For sisters and survivors, for anyone who's ever been lost and found, for every book club that thrives on lively discussion and every reader in search of a riveting emotional journey. For anyone who's ever wondered, "Who was the real Susan G. Komen?" This is my story and the story of my sister, Suzy.
PRAISE FOR PROMISE ME
"These stories of joy, fear, love and heartache are told in a captivating voice that brings a highly personal dimension to [Susan G. Komen for the Cure] and to the subject of breast cancer in general… A touching, inspiring look behind the scenes at the founding of one of the most famous nonprofit organizations in the world."
— Kirkus Reviews
"More than twenty-five years ago, Nancy's love for her cherished sister sparked a promise to fight breast cancer. Today that promise has launched a global movement to end breast cancer, and Nancy is fulfilling her promise to women all around the world. Promise Me is an inspiring tribute to a sister's love and a must-read for all who know the pink ribbon."
— LAURA BUSH, former First Lady and author of Spoken from the Heart
"Promise Me emotionally and elegantly chronicles how sisterly love changed the course of modern medicine by catalyzing women around the world to battle breast cancer."
— MEHMET OZ, M.D., host, The Dr. Oz Show and professor and vice-chair of surgery, New York Presbyterian/Columbia
"This is the story of what happens when a big heart meets an iron will. Nancy Brinker will make you sit back in wonder."
— KELLY CORRIGAN, bestselling author of Lift and The Middle Place
"Susan G. Komen for the Cure has become a brand name in the fight against breast cancer, thanks to the tireless devotion of Nancy Brinker. In Promise Me we learn about the remarkable work of that organization, and also finally get to know the woman behind the name—Suzy Goodman Komen's sense of fun and family comes through these pages as a bright light leading her sister through trials and triumphs."
— COKIE ROBERTS, news analyst and author of We Are Our Mothers' Daughters and Founding Mothers
"This is three beautiful books rolled into one: a poignant memoir, a guide to running an entrepreneurial foundation, and a set of inspiring stories about the struggle against breast cancer. When her beloved sister, Suzy, died, Nancy Brinker's life's work began. This book is about the meaning of life. It will move and enlighten you."
— WALTER ISAACSON, bestselling author of Einstein: His Life and Universe and Benjamin Franklin: An American Life
PROMISE ME READING GROUP GUIDE
How would you describe the relationship between Nancy and Suzy? Did the relationship between the sisters resonate for you? Did it remind you of your own relationship with a sister or close friend? Why or why not?
How were Nancy and Suzy shaped by the legacies of cancer in their family? Which messages from their many role models—including their parents—proved to be the most lasting?
What explains the differences between Suzy's and Nancy's responses to their own cancer diagnoses? What can we learn from the knowledge that women respond to illness in many different ways? How would you describe your approach to doctors and caring for yourself?
What did Suzy and Nancy learn about themselves on their memorable tour of Europe? What enabled them to be so adventurous yet so mature?
A key component to Nancy's work is public awareness and education. What surprising truths did you learn about breast cancer by reading this book? As Nancy shared inspiring stories of survivors from all walks of life, how did these experiences compare to those of women you have known who confronted a cancer diagnosis?
Download the complete list of reading group questions.
Visit co-author Joni Rodgers at www.jonirodgers.com