About Me
---
I grew up in Peoria, Illinois in a loving family of passionate caregivers and innovative strivers. My father, Marvin Goodman, a businessman with a big heart, embodied the solid values he instilled in me and my big sister, Susan. Our mother, Ellie Goodman, a Girl Scout leader and community activist, lit up rooms with her vibrant smile and lived her faith with daily acts of loving kindness. Mom was a fundraising marvel, part of the army of everyday people who supported scientists in their search for a polio vaccine in the 1950s. Trooping along with her, Suzy and I witnessed the powerful chemistry of caring and action, and it shaped our lives.
The Book
---
For sisters and survivors, for anyone who's ever been lost and found, for every book club that thrives on lively discussion and every reader in search of a riveting emotional journey. For anyone who's ever wondered, "Who was the real Susan G. Komen?" This is my story and the story of my sister, Suzy.


read chapter one >>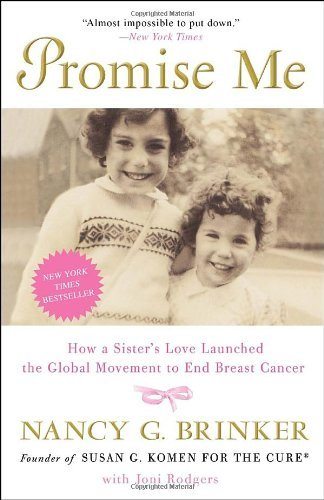 NewsRoom
---
TWITTER FEED
[fts_twitter twitter_name=nancygbrinker tweets_count=6 cover_photo=no stats_bar=no show_retweets=no show_replies=no]
Speaking Engagements
---
Ambassador Nancy G. Brinker has given speeches around the world – from the United Nations European Headquarters in Geneva, Switzerland to business leaders in Moscow, Russia and at annual meetings of our nation's largest companies. Her inspiring story of leading the global breast cancer movement from a promise made to her sister resonates with so many looking to transform businesses and organizations. In front of countless audiences big and small, she has shared her fascinating experiences and stories as our nation's top diplomat in Hungary in the weeks and months immediately following 9/11 and as the United States Chief of Protocol under President Bush where she had the intimate opportunity to walk the halls of the West Wing and White House Residence as she managed protocol and social matters for visiting heads of state and government.
click here to inquire about public speaking engagements >>